Brasserie Restaurant in Barcelona
Traditional grilled food in Barcelona
With the soul of a classic winery, recovering the flavor of the ember, Oxid La Tertulia, recreates those environments where sharing, enjoying the moment gives meaning to a good table.

Located in one of those corners of the authentic Barcelona, with neighborhood flavor, where tradition and vanguard go hand in hand in a unique placeta.

A wine and beer list designed to pair perfectly with our specialties, grilled meats and fish, rice dishes with seasonal produce and homemade desserts that characterize the soul of Oxid La Tertulia.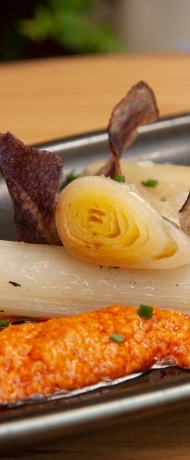 A selection of our best cuisine, prepared with seasonal products and with an updated vision.
You will find a daily lunch menu with new proposals and suggestions.
Updated version of the meal
but maintaining all its tradition
OXID La Tertulia you will find a unique room where the old wood has been respected with details recovered from Els Encants, to preserve all the air of a wine cellar that it deserves.
With a terrace located in a unique square, quiet, bright, of those that make neighborhood to enjoy both our menu and daily suggestions, as well as our selection of wines and spirits.
Grilled meats in Barcelona center
Our grilled restaurant offers a variety of traditional Catalan meats to enjoy a homemade and quality meal in the center of Barcelona. You can also order the carne asada to take away and enjoy at home.
Restaurant with vegetarian options
At Oxid la Tertulia you can order vegetarian food to enjoy a more veggie dish: potato omelette, grilled vegetables, mushroom croquettes, assortment of cheeses… among other options!


In our menu you will find a vegetable grill and a meat grill, as well as a variety of starters.